or how I learned to control humans with electricity
The effects of Galvanic Vestibular stimulation have been known for quite a while. But it was not until recent years that the phenomenon has picked up quite some interest in the scientific community and the public eye.
I read the papers, saw some videos from japanese researchers, and thought to myself… this can't be that hard. And it wasn't.
So I took a 9V battery, a pair of electrodes (the same I had made for my GSR-Lie Detector) stuck them to my Mastoid Processes (the conic bones that end behind the earlobes) and presto. In no time I was leaning to one side or the other as my vestibular system was affected by the galvanic current.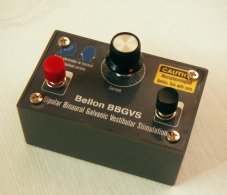 Once I was convinced it worked, I designed a circuit to be able to regulate the current (to about 2-3mAmps) and a 4 switching transistor system for easy polarity reversal.
I ended up with a box with left and right buttons and a dial for adjusting the current (via a 10KOhm Pot). Looks sort of like a nintendo controller. Perhaps in the future I will build the first video game console where you will be able to play Mario Bros. WITH your parents, instead of a tv screen.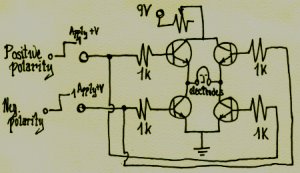 Here is the schematic. To set the inputs to high you can just hook a couple switch buttons (like the ones I used) to the 9V battery. Pressing a button will set that input to high, and thus bias the corresponding transistors. Pressing the other button will reverse the polarity. The variable resistor is a potentiometer, a 10K worked fine for me.
WARNING! Applying electricity to your head is not a good idea. Don't do it. You have to be nuts to even consider it.
So in essence, if the subject closes his eyes (or her eyes; I do not discriminate among my victims), the subject will lean towards one side or towards the other. If made to walk, this effectively makes the person go in a given direction under the control of the experimenter. As an added bonus, it has come to my attention, after several subjects mentioned it, that the application of the galvanic current generates a pleasurable sensation. Upon further research it seems that the current is stimulating pleasure centers in the nervous system. This of course is worth more investigation!