I couldn't find the old schematic for this project, so here is the very basics of the high gain OP AMP (LM741) and the audio amplifier (LM386):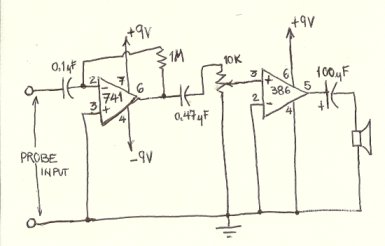 This doesn't have the fancy stuff like the LED based output or the external audio jack or the low/hi gain switch, but it should get you started. The probes are connected to a telephone pickup coil (can be purchased at radio shack) or any other coil. Make sure you use shielded cable for the probe.
To make the +9 -9 battery just take two 9V battaries and connect the + side of one to the – side of the other, that will be ground, and then you will have a +9V and a -9V terminals.
Also you will have to bypass the battery using a couple 10uF capacitors. Just connect the +9 and -9 terminals to ground using the capacitors (this is not shown in the schematic).
Once I have more time I will reverse the design to provide a full schematic of the whole device.
Electromagnetic Field Pollution!
Have you ever wondered what the electrical activity around your house sounds like? Once you have listened to all the EM pollution around, you really wonder about all these waves.
I got some recordings of a few EMF sources around the house:
Even a small quartz watch gives out large pulses each time the seconds hand moves.
Refrigerator LED Display EMF (or something more)
The fridge LED display really is strong, I could pick it up several meters away from it. I wonder if the source of the radiation is more than the display. The oscillations that sound like a lightsaber are due to my moving of the probe around the area.
Microwave Oven LED Display EMF
900Mhz Wireless phone in base EMF
When I moved the probe over the area with the phone the signal changes and you can hear static and a solid pulse every second or so. The base just gives out a more high pitched sound also with a periodic oscillation.